SFJ00219290320001 DS/Hvb THORDR. Foto av fotograf Bryn, Sandefjord.

1929 DS/Hvb THORDR (1) (SFJ002192903)

Type

Dampskip, hvalbåt
steam ship, whale catcher.

ID nr:

50734

Flagg (flag):

NOR

Havn(port):

Sandefjord

Byggeår (year built):

1929/04

Bnr (Sno).:

436

Bygger (yard):

A/S Akers Mekaniske Verksted, Oslo.

Eier (owner):

Bryde & Dahls Hvalfangerselskap A/S, Sandefjord.

Disponent (manager):

A/S Thor Dahl, Sandefjord.

<![if !vml]><![endif]>Klasse (Class).:

DnV +1A1 Hvalfanger

Tonnasje (Tonnage):

249 brt, 84 nrt.

Dimensjoner (size):

Loa: 115,7–B: 23,9'–D: 13,2'-dypg.: 13,5'.

Lasthåndteringsyst.
(cargo handling.)

Fangstutstyr.
(catching equipm.):

Navigasjonsutstyr:

Manøversystemer
(syst. for manouvering)

Dekksmaskineri
(deck machinery):

Kommunikasjon (comm.):

Radiostasjon (Wireless), Direction Finder.

Kallesignal (Call sign.):

LDMG

Fremdrift (propulsion):

1 x stempel dampmaskin (steam reciprocating), type trippel ekspansjon, 3-sylindret, syl. diam.: 14,0"–22,0"–37,5", slag/stroke: 24,0". 141 NHK. Bygget av A/S Akers Mekaniske Verksted, Oslo.

Fart/forbr. (speed/cons.):

14 knop.

Hjelpemaskineri (aux):

Tot. el. kraft (el. power):

Kjele(r) (boiler):

1 x dampkjel (ildrørskjel/fire tube boiler) oljefyrt med dim.: 14,3' x 11,5' og 3 fyrganger. Kunstig trekk. Heteflate (HF): 2.383 ft2. Arbeidstrykk: 200 psi. Produsert av A/S Akers Mekaniske Verksted, Oslo.

Bemanning (crew):

Historikk:

1929 Bygget som hvalbåt THORDR ved Akers mek. Verksted, Oslo for A/S Bryde og Dahl Hvalfangerselskap (A/S Thor Dahl), Sandefjord. Sjøsatt 05/03, levert i april.
Som ny ble hun sendt til Sandefjord for bl.a. klargjøring ved A/S Framnæs mek. Værksted. Her hun ble fortøyd nær inntil Fl/k PYTHIA.
Få dager senere, den 14/04, kantret PYTHIA under reparasjonsarbeide og la seg delvis over THORDR. Den splitter nye hvalbåten fikk store skader, men ble reparert i tide før fangstflåten avgikk for 1929/30-sesongen.
Antatt i pelagisk antarktisk fangst for Fl/k THORSHAMMER alle sesonger fra 1929/30 til og med 1939/40
1937 Fanget sesongen 1937/38 for THORSHAMMER. Gikk 22/11 fra Cape Town, Sør-Afrika til isen med THORSHAMMER og 7 hvalbåter samlet etter sommeropplag og vedlikehold i Cape Town.
1939 Ankom 21/03 tilCape Town sammen med kokeriet THORSHAMMER og de andre hvalbåtene etter endt sesong. Fire hvalbåter ble lagt i opplag i Cape Town for sommeropplag og vedlikehold. THORDR gikk videre med kokeriet til Sandefjord. Ankom 16/04.
1940 Overtatt av Nortraship.
1942 Solgt til War Shipping Administration, USA. Overført til US Coast Guard 21/11. Ombygget for USD 283.541. Formelt strøket fra Nortraships register 24/11.
Omdøpt til USCG BODEGA (WYF-342).
Opprinnelig tenkt brukt ved Grønland, men i stedet satt i patruljetjeneste i Karibien. Stasjonert i Balboa og på østkysten av US Canal Zone Panama.
1943 Kastet på grunn i tung sjø 20/12 ved Margarita Bay, U.S.C.Z. (Panama) under forgjeves bergningsforsøk av det grunnstøtte Liberty-skipet DS JAMES WITHYCOMBE.
Begge skip erklært som "total loss" og overgitt. Ingen omkomne.

History in English:

1929 Built as whale catcher THORDR by Akers mek. Verksted, Oslo for A/S Bryde og Dahl Hvalfangerselskap (A/S Thor Dahl), Sandefjord. Launched 05/03, delivered in April.
Sailed from Oslo to A/S Framnæs mek. Værksted, Sandefjord for final adjustments. Berthed alongside the 5.600 tdw Fl/F PYTHIA.
A few days later, 14/04, the PYTHIA capsized during hull repair and caused severe damages to the brand new whale catcher. Repaired in time for the 1929/30 whaling season.
Catched for the floating factory THORSHAMMER in the Antarctic the seasons 1929/30 to 1939/40.
1937 Catched for THORSHAMMER the season of 1937/38. Departed Cape Town, South Africa 22/11 with the factory and 7 catchers after summer layup and maintenance in Cape Town.
1939 Arrived Cape Town 21/03 together with the factory THORSHAMMER and the other catchers after end of season. Some catchers were laid up in Cape Town for summer layup and maintenance. THORDR proceeded to Sandefjord and arrived 16/04.
1940 Requisitioned by Nortraship for WWII service.
1942 Sold to War Shipping Administration, USA. Transferred 21/11 to US Coast Guard. Conversion costs were USD 283.541.
Named USCG BODEGA (WYF-342) Stationed at Balboa, US Canal Zone, Panama and on the East Coast in the Caribbean for WWII service.
1943 Stranded on 20/12 off Margarita Bay, Canal Zone during a rescue attempt in heavy seas of the grounded Liberty ship SS JAMES WITHYCOMBE.
Both vessels became a total loss. No casualties.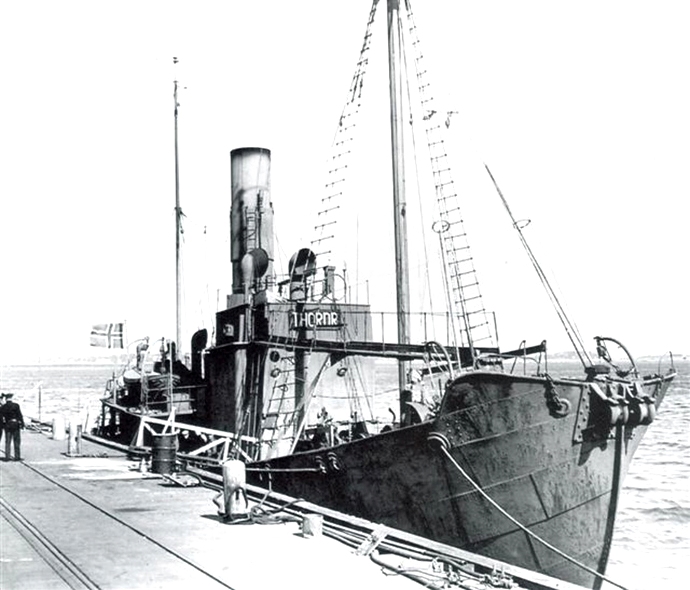 00219290320005 DS/Hvb THORDR. Som marinefartøy ved krigens begynnelse. Sies å være i Boston for overlevering til amerikanerne.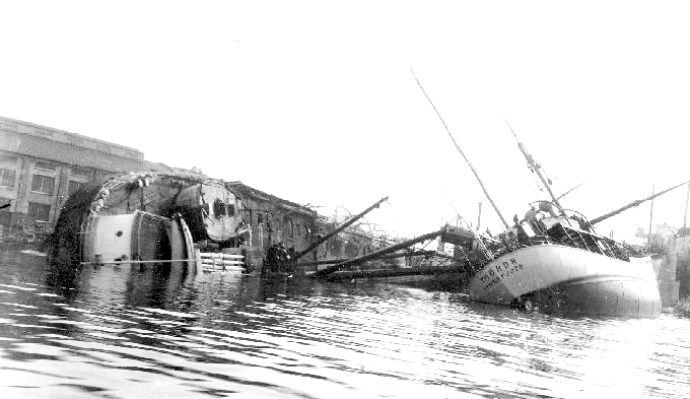 00219290320002 DS/Hvb THORDR. Foto fra Framnæs mek. Værksted som viser Fl/k PYTHIA og THORDR etter kantringen.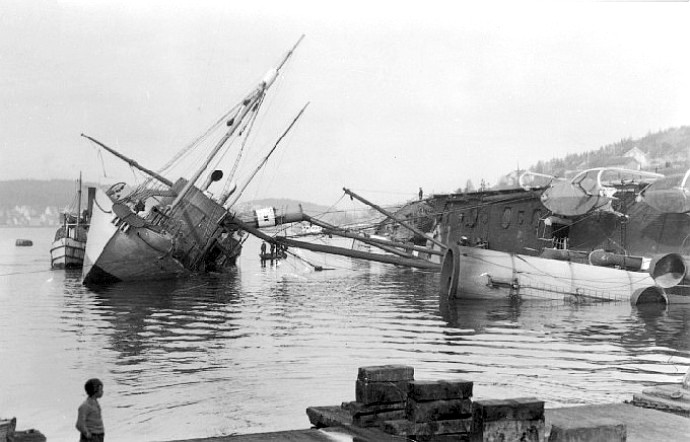 00219290320003 DS/Hvb THORDR. Mastene til PYTHIA hviler på THORDR's skrog.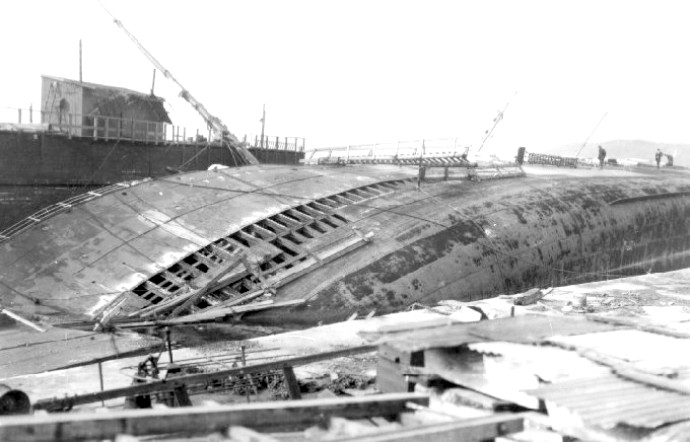 00219290320004 DS/Hvb THORDR. Bildet viser hullet i PYTHIAs skrog som forårsaket havariet. Historien sier at skipet ble trimmet feil under operasjonen av skipets mannskap.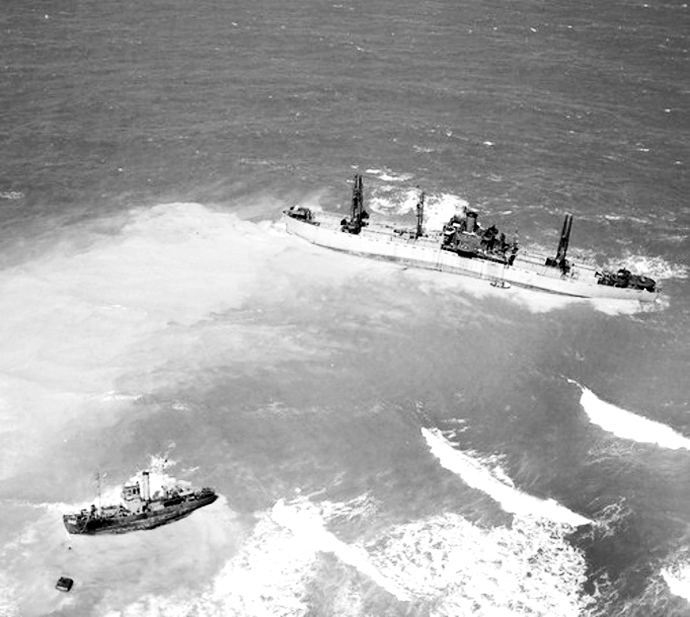 00219290320007 DS/Hvb THORDR som BODEGA og hjelpeløs havarist etter forsøk på å redde DS JAMES WITHYCOMBE i tung sjø utenfor Margarita Point, i Canal Zone. (Foto: Jim Flynn, US Navy).
Utdrag fra boken: "The US Coast Guard in World War II" av Malcolm Francis Willoughby
SS JAMES WITHYCOMBE, a merchant vessel, was aground off Margarita Point, Canal Zone, on 20 December 1943. CGC BODEGA, a 249-ton, 105-foot ex-whaler, used as a patrol boat and commanded by Lieutenant Thomas M. Duer, USCG, attempted to take off her crew. The sea was heavy. BODEGA very carfully approached the lee side of the freighter and tried for some time to get alongside, after which her screw jammed and would not turn forward or stern. Attempts to get a line between the vessels were fruitless until one from the freighter's Lyle gun was secured to BODEGAS bow. The latter was 75 feet to leeward of the freighter. The seas lifted BODEGA onto a coral reef and worked her in further until she was hard aground.
One raft was launched from BODEGA to leeward and the four best swimmers were sent ashore so that a line could be established between the ship and the beach by usuig the raft as a sort of floating buoy. However, the line fouled on the coral, and they lost contact with the raft. The night passed without further events, except that, save for one, all the liferafts, which had been launched and secured, had disappeared. This one raft was sent to the beach in the morning with seven men. A plane passing over dropped a line between BODEGA and the beach, and this passed near the bow of the freighter. Everyone was ordered to jump overboard and throw lanyards around the line. When every man was off the skipper followed. Fortunately, the only casualty was the bruised knee of a machinist's mate.
DS JAMES WITHYCOMBE (1943-)
Bygget som ordinært Libertyskip (Liberty-skrog nr. 2032) av Henry J. Kaiser's Oregon Shipbuilding Corp., Portland, OR på en av verftets elleve (11) beddinger. Påbegynt 8. juni 1943 og levert 6. juli - 29 dager senere. Oppkalt etter Oregons guvernør (R) 1914-1919. På vei fra Mobile, Alabama til Østen gikk hun på grunn i full storm v/ Margarita Bay 20. desember samme år. Overgitt etter mislykket bergingsforsøkt samme dag av USCG BALBOA, ex. THORDR.
Built as Liberty ship with hull No. 2032 by Henry J. Kaiser's Oregon Shipbuilding Corp., Portland, OR. Laid down 8 June 1943 and delivered 6 July - 29 days later. Named after Oregon's Gouvernor 1914-1919, James Withycombe (R). Grounded at Margarita Bay 20 December when approacing the Panama Canal on passage from Mobile, Alabama to Asia. Declared as total loss.